As it has seemed of late, Q is picking up steam.
His drops have been alleging some incredible assertions, if they are real. I don't spend a lot of time on Q, as I think the drops are vague enough that to know what he is talking about with even half of them would require full time research. Here, I am going to limit speculation, and focus only what he is clearly asserting and posting.
First, Allison Mack, the Smallville actress who was just arrested for her role in the NXIVM sex cult, is singing like a Canary. This is significant as NXIVM has been linked to elites from Hillary Clinton to Kristen Gillibrand, to a former acting chief executive of Enron, to billionaire heiresses, to Hollywood actresses, to Richard Branson, to the Dali Lama, to even the daughter of former Mexican President Vicente Fox.
Second, Q is introducing us to this girl: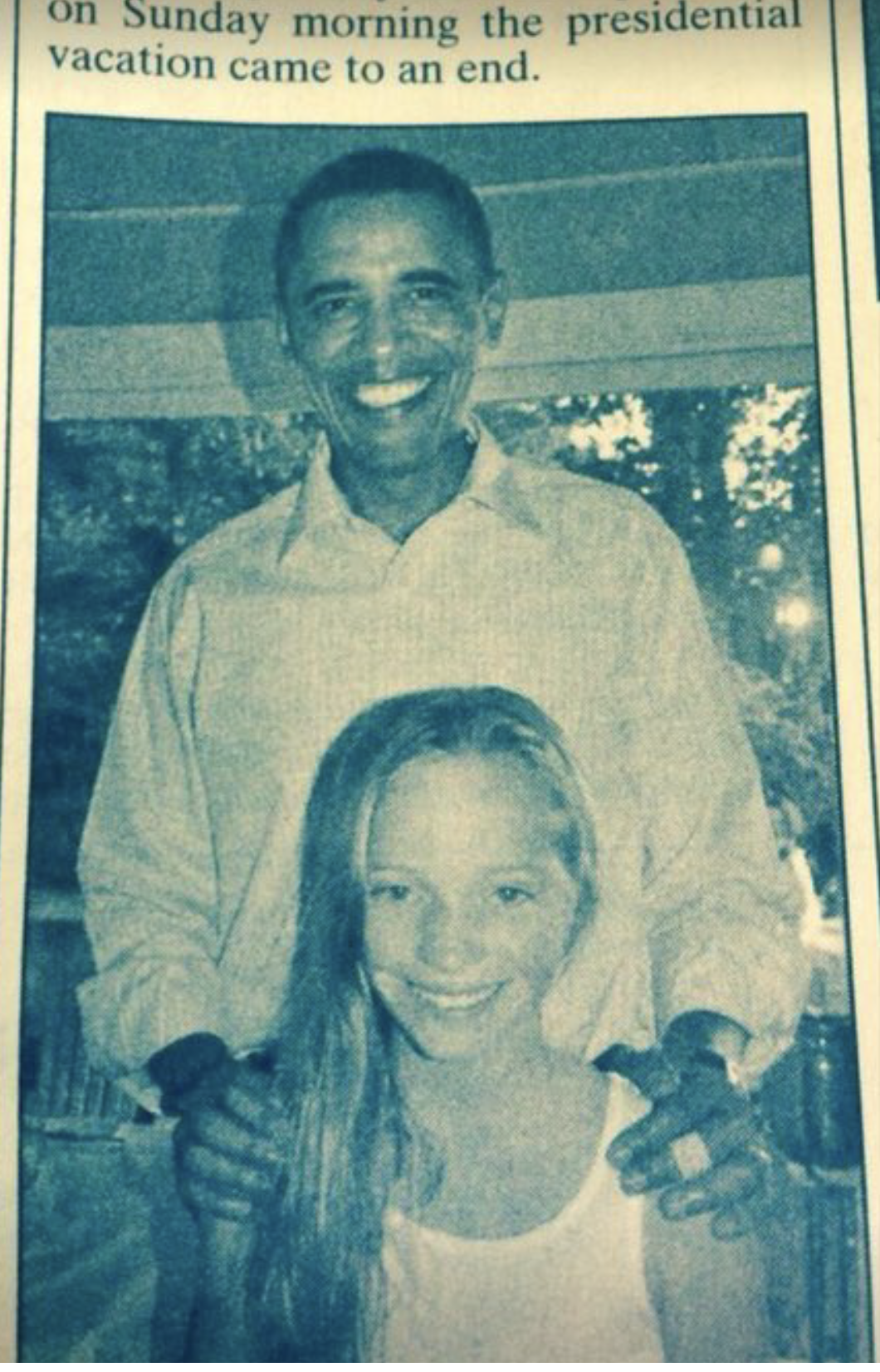 Her name is Mary Agnes (Maggie) Nixon (no relation to Richard, as far as I can tell), and she is the grand daughter of the creator of various soap operas on TV. Many noted the bandaid on Obama's left index finger, which has popped up on John Podesta in another photo, and which is apparently associated with a documented Spirit Cooking ritual, in which you cut into your left middle finger with a sharp knife, and "eat the pain."
Q reposts someone who says the name "Wendy?" in response to the picture of the little girl, implying that name is associated with her, asks what a pet name is, asks why there are so many pictures with her, and posts a link to this article about an instagram model killed in a plane crash. He then explains the linkages are wider, responding to someone who said Voat's Pizzagate discussion thread just crashed, wiping all the research that wasn't archived:
Over the target.
Expand further.
Wendy.
HUSSEIN.
Mack.
AS.

West Hollywoods's Mariah Sunshine Coogan Identified as Victim of Scottsdale Plane Crash


Open source.
Q
AS is presumably Adam Schiff. So the name Wendy, Maggie Nixon, Hussein, Mack, Schiff, Pizzagate, and the instagram models plane crash have some thread connecting them. Interestingly, Trump just "mistakenly" referred to Debbie Wasserman Schultz as "Wendy" Wasserman Schultz in a tweet. Some think it was Trump trolling this Spirit Cooking crew, or offering a Q-confirmation that only those following would see.
There is a lot of speculation. Wikipedia notes :
In Germany, after 1986, the name Wendy became popular because it is the name of a magazine (targeted specifically at young girls) about horses and horse riding.
One article noted that Obama was approaching a buffet on Martha's vineyard, and while considering what to take asked Maggie Nixon, "What do you like Maggie?" to which Maggie replied, "I like horses!," making everyone laugh. Some think it might explain how Obama might have given Maggie the pet name, "Wendy" though I am unsure if Obama would know about the linkage.
Q then says,
This door will be opened later.
The choice, to know, will be yours.
END.
Q
So apparently the details of this will not be forced on the public, but will be available if people want to know. I think that is a mistake myself. People need amygdala. If you leave it ignorable or deniable, leftists will ignore it, and it will accelerate the return of these problems. The horrors need to be everywhere, so when K-strategists decide to eradicate these things in the future, leftists will shut up and retreat into the shadows because they will know unequivocally that they need to let the good do what they need to. They might even fight these horrors themselves, knowing that if they return, it will not be tolerable. No matter how horrific, no harm will ever come from forcing weak amygdalae to confront reality. If this is horrific, let it be so, that leftists might learn.
Q goes on:
AS THE WORLD TURNS
Q

Agnes Nixon, Who Created Popular Soaps 'One Life To Live' And 'All My Children,' Dies At 93
Q

Hint: Hussein & Maggie
"Wendy"
How many pics can you find of them together?
Age 10, 11, 12….
Q
Q then posted this: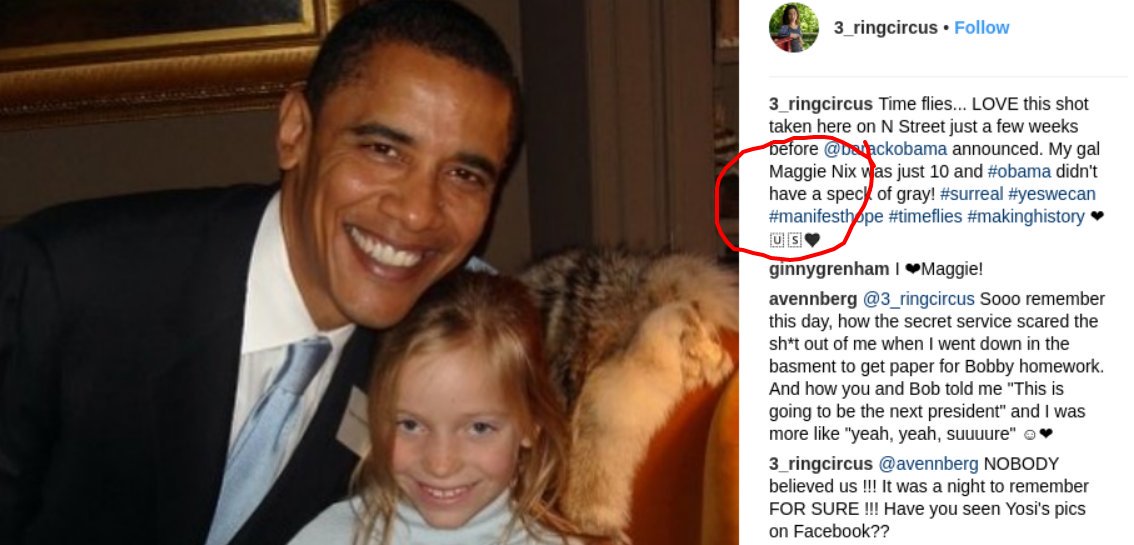 Which shows her family was associated with Obama before he became President.
Someone else also showed this picture which seemed disturbing: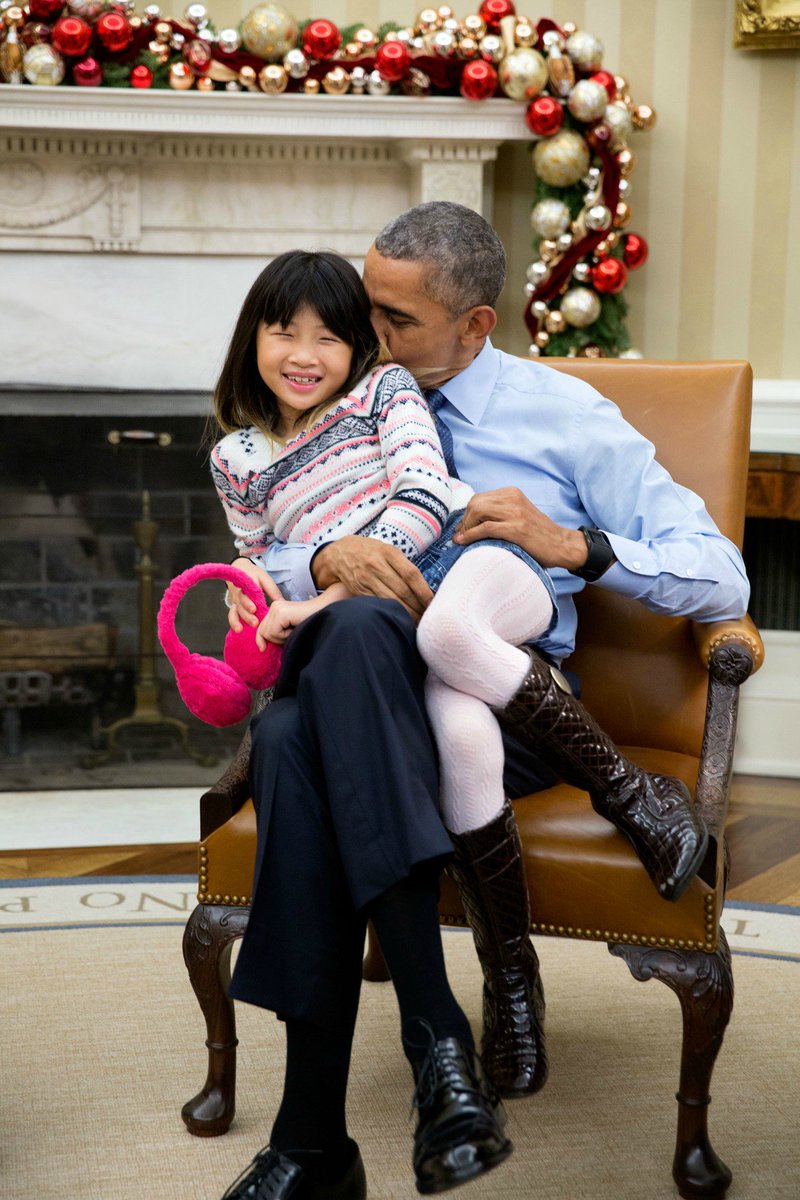 There is something strange about that picture. I do not know any man who would interact with someone else's daughter like that.
Regardless, the digging continued, and led to this, which is Maggies mom hanging with James Alefantis: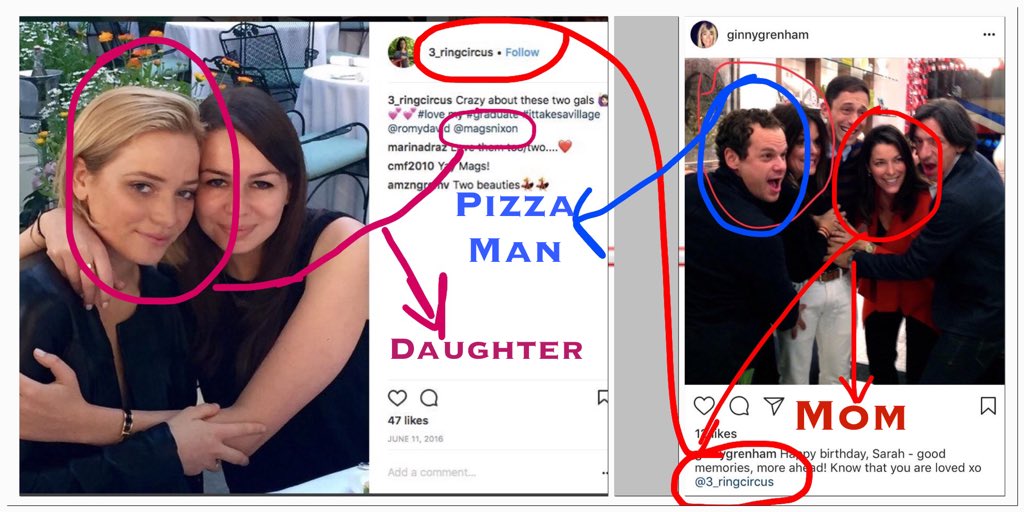 Someone then noted:
why does image search for "maggie Nixon" and "obama" return an image of abramovich and defranco ONLY? I think we are over the target?
ANONYMOUS

Bigger than you can imagine.
POTUS warning shot.
Mack.
Snowball.
Why is Hussein pictured w/ this H-Wood child many times?
What are 'pet' names?
Conspiracy?
Q

You can't imagine the size of this.
Conspiracy risk.
Planned for later.
Q
So there is some social circle which Obama, the family of a major Hollywood TV creator, and James Alefantis all belong to, it is tied to David Brock, there may be some inappropriate interactions with children, and it is all tied to Adam Schiff, a plane crash of some instagram models which killed them, and spirit cooking with Marina Abramovich.
It looks quite ominous.
Q then quotes this Podesta email, where Hillary's campaign lays out how to announce her candidacy:
We have has a very good relationship with Maggie Haberman of Politico over the last year. We have had her tee up stories for us before and have never been disappointed. While we should have a larger conversation in the near future about a broader strategy for reengaging the beat press that covers HRC, for this we think we can achieve our objective and do the most shaping by going to Maggie.
Q then goes on:
Right on Q.

The Clinton campaign office, wrong or rightly, saw Maggie Haberman as their pet, as this internal email, published by @WikiLeaks makes clear:https://t.co/bzmtX9KsJM pic.twitter.com/0AwNGstgGD

— WikiLeaks (@wikileaks) April 21, 2018


Hello Maggie.
Trust funds (3).
Deposits routed from EU.
Why are deposits ORIG from EU being transferred into [3] TRUST funds [children]?
How do you get your talking points?
Why do many DC journalists (yourself) use & replace 'burner phones' every week?
How do you pass the new number out?
Tweets are very important.
Do you feel safe?
Q
Trump tweeted about Maggie Haberman attacking Michael Cohen unfairly, to which Wikileaks tweeted:
The Clinton campaign office, wrong or rightly, saw Maggie Haberman as their pet, as this internal email, published by @WikiLeaks makes clear:
Maggie… Pet… It does look like Q was followed on by Trump, who was then followed on by Wikileaks, all adding just enough verification to Q for us to see it, but not so much the Fake Media might inform their readers.
Q responds to an anon's question:
Who does Haberman follow?
ANONYMOUS

Think public & private Twitter accounts.
They all have them.
These people are stupid.
We have it all.
Q

Think private email addresses.
Hussein.
HRC.
LL.
……….
They think they are clever.
Q
Q then quotes Wikileaks saying "their pet," and says:
Coincidence?
Think Wendy.
Coordinated – the "Awakening."
Every detail accounted for.
Every scenario planned for.
Enjoy the show.
Q

Yesterday.
Maggie showed w/ Hussein.
Points outlined.
POTUS – "Wendy."
Today.
POTUS – "Maggie" focus.
Confirmation?
Coincidence?
Learn our comms.
Q

As the World Turns.
Marker.
Everything has meaning.
Everything.
Q&A.
Q: SR
Common Q.
Counted on.
Day after.
DNC to initiate lawsuit (pre-planned).
How do we 'legally' ……..
Win.
This platform is more than simply pushing the TRUTH.
Q
The subject then changes to drug pricing, which will be done in the next post.
Tell others about r/K Theory, because Q isn't the only big news, even if it is the biggest