At the tip of the K-spear, as the K-shift is happening, is a dangerous place unfortunately:
Exclusive details have emerged on the early morning attack against Border Patrol agents that left one agent dead and another hospitalized in serious condition on November, 19 2017. Breitbart Texas first broke the news of the death and injuries and now the National Border Patrol Council (NBPC) says that their agents on the ground have stated that the agents were tracking a group of illegal aliens who then beat the agents with rocks until one was killed and the other hospitalized.

Border Patrol Agent Brandon Judd, also president of the NBPC, stated, "What we know is that Border Patrol Agent Rogilio Martinez appears to have been ambushed by a group of illegal aliens whom he was tracking. Our agents' reports from the ground say that he was struck in the head multiple times with a rock or rocks."
The agent was supposedly checking an alarm, when he was caught from behind by a group of illegals armed with rocks. They killed him, and then they waited at the site and ambushed the second agent. The wall can't come fast enough.
They should allow these agents who patrol alone to bring personal dogs with them, and offer free training seminars to train the dogs for tactical use. A 200lb Ovcharka, with it's heightened senses of smell and hearing, will have an almost psychic ability to sense hostiles laying in wait, and even with rocks not many humans are going to try to launch an attack in the face of this: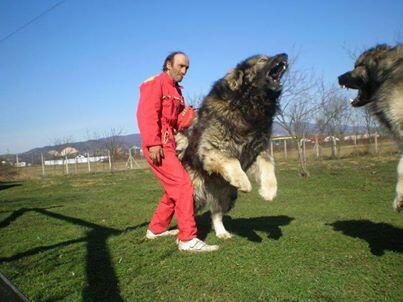 Even just the senses of a Rottie or Mastiff would be an invaluable addition to an armed human.
If the agents are adopting large aggressive dogs from shelters, they would be adopting dogs who would otherwise be killed and giving them homes, and those dogs might just save agent lives one day to pay the favor back.
Until then, "Build the wall."
Tell others about r/K Theory, because it is getting more and more dangerous out there