r/K is now a major topic in pickup. Krauser's brand new guide to game, Daygame Infinite features r/K psychologies as a major part of his analysis of pickup.
First, I am not a player, and I want to see Western Civilization reproducing using the K-strategy. But my position on game is that every K-strategist should study it and practice it before marriage. The long-term goal of a K who hates the left in this world is the life partner and family, because that is how we defeat the left.
For men that will happen one of two ways. A high school sweetheart you marry and lots and lots of luck, or you have to learn game, meet and date lots of women, and select your long-term mate carefully from a plethora of candidates. Warren Beatty saying he was never afraid of marriage, he was afraid of divorce comes to mind. Anything else is pure Russian Roulette in today's r-selected environment.
But to do that, you must have the ability to meet women easily and often, and engage them in ways that will render them open to dating you. Krauser's London Daygame model of pickup will allow you to meet many more women, turn those meetings into dates, and thus have a much greater likelihood of being able to meet a K-selected girl looking for a loyal, long-term relationship.
In addition, if you master game to the point you can get almost any woman in the sack, you are a walking K-strategy detector. Two guys who have got game are Donald Trump and George Clooney. Both hit on every woman they came across, and then married the one who said no. When Donald met Melania, he was with another date. He famously made a play, and Melania rebuffed him, which I suspect was, in reality, a first test passed. Clooney was the same. Amal blew him off, and that piqued his interest.
Although they may or may not admit it, my guess is that rebuffing is what they were looking for in a potential long-term girlfriend who might qualify as a wife. When you bring game, and in their case A+ pre-selected billionaire celebrity fame game to a girl, and she not only doesn't get giggly and diminish her boundaries, but she coolly rejects you, you have a high likelihood of having just detected a K-psychology who is looking for a husband. As Melania shows, in this world that is more valuable than gold. Krauser even discusses that some girls will not be seducible even by those with impeccable game, and are designed to marry one man: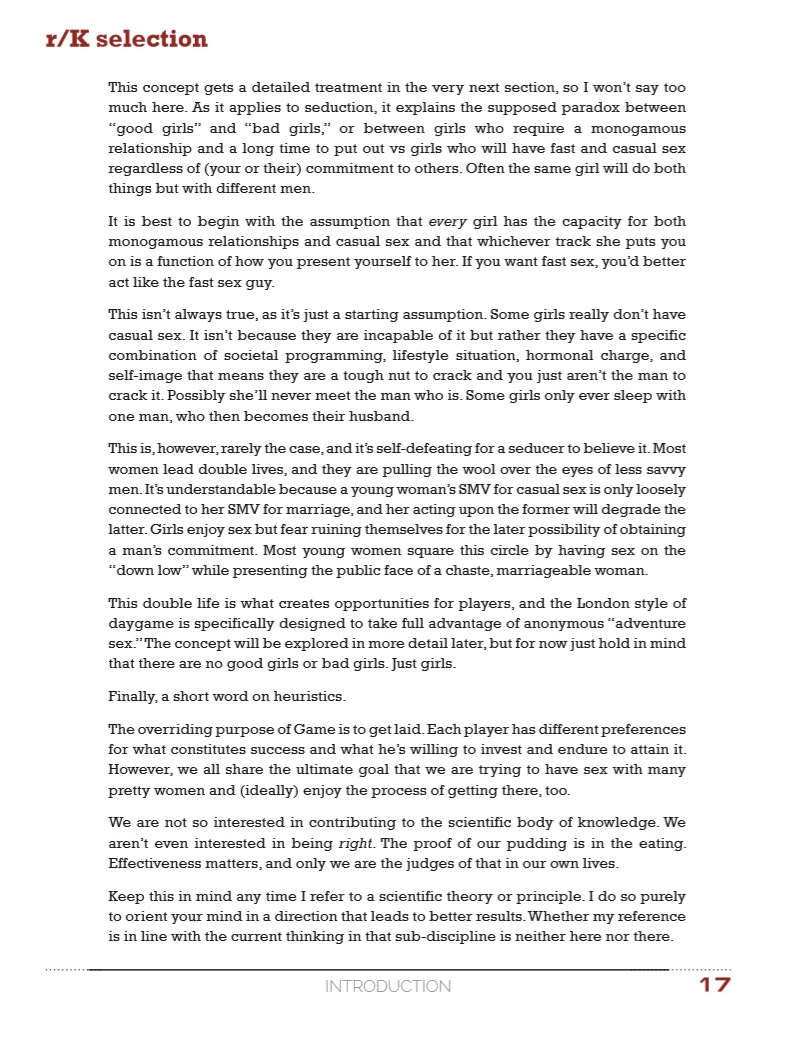 Those are the women you are looking for. But you can't, without trying arduously, find them and tell them from the rest.
So I strongly support the pickup community developing their art, spreading it, and dissecting the science. It will help young K-strategists, who I feel need it immensely.
I do disagree with Krauser on whether the player lifestyle should be a goal. I see the war for the West as a calling, so I would encourage all K-strategists to seek an ultimate goal of family and children raised with the K-strategy, to populate the West. But God puts us where He wants us, and I suppose if you have Samurai, you will have Ronin floating about taking challenges, and developing their styles as well. I don't doubt Krauser is part of the plan, even if he is still not settled down.
Now some thoughts on Krauser's book. There are guys who do things naturally without thinking. Jack Johnson was reportedly a natural at slipping punches. With just a brief lesson, one trainer said he didn't see why Johnson would ever be hit, with the way he moved naturally. Donald Trump would probably have been persuasive if he hadn't studied hypnosis. Likewise Krauser has bits in his book where I see things he is doing to amygdalae that will naturally adapt those who read it into more attractive mate prospects as men, and I do not know if he is even conscious of the mechanisms he is tripping. Case in point: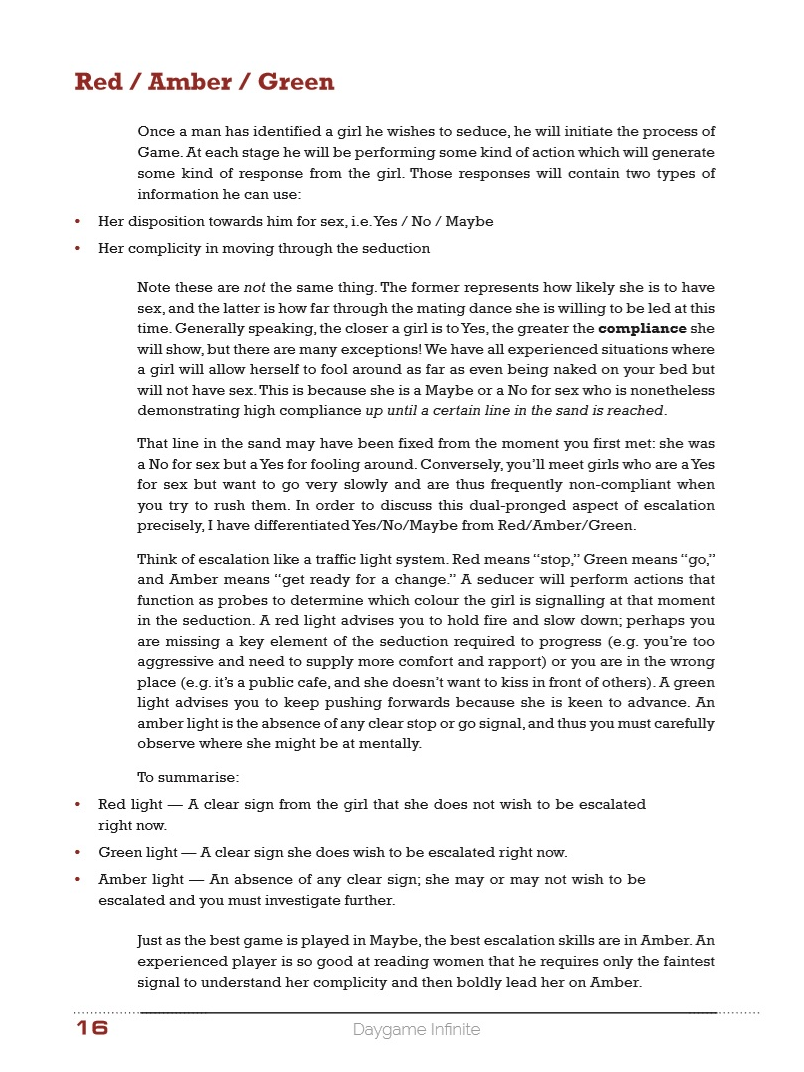 By using the stoplight analogy, look what he does. Suppose a guy approaches a girl after reading "Fifty Ways To Make Any Girl Instantly Love You," and he expects success. He begins trying lines, they fail, and now he is getting nervous that he will be rejected. That is amygdala. That potential rejection is also a violation of expectation, because those lines were supposed to work, so now he is two in the hole, with the failure, and the expectation violation. His amygdala is lighting up because it is all going wrong. That desperation, and rising amygdala, will show and now the girl really finds him repulsive. Girls go cold in the face of desperation and nervousness.
But you approach a girl, probe for the stoplight, see it, and then recognize it's not going to advance and back off, and the stress is relieved, for both you and the girl. You have no violation of expectation. She senses you aren't pushing to get her in the sack, which is a relief to her, and you relax because this one isn't going to hop right in the sack – and you are expecting that, so the entire interaction's amygdala drops to zero. Using r/K to explain why there are girls with green lights and red lights only adds an intellectual foundation to knockout advice for approaching girls.
Even the Mystery Method treated girls as interchangeable, and merely advised to go back and repeat previous parts of the seduction process, to get back on track, which would generate amygdala if failure presented itself. Saying some girls will immediately go for it, and some will not work out, so you should relax around them, makes excellent sense from the amygdala-perspective.
I also found this interesting: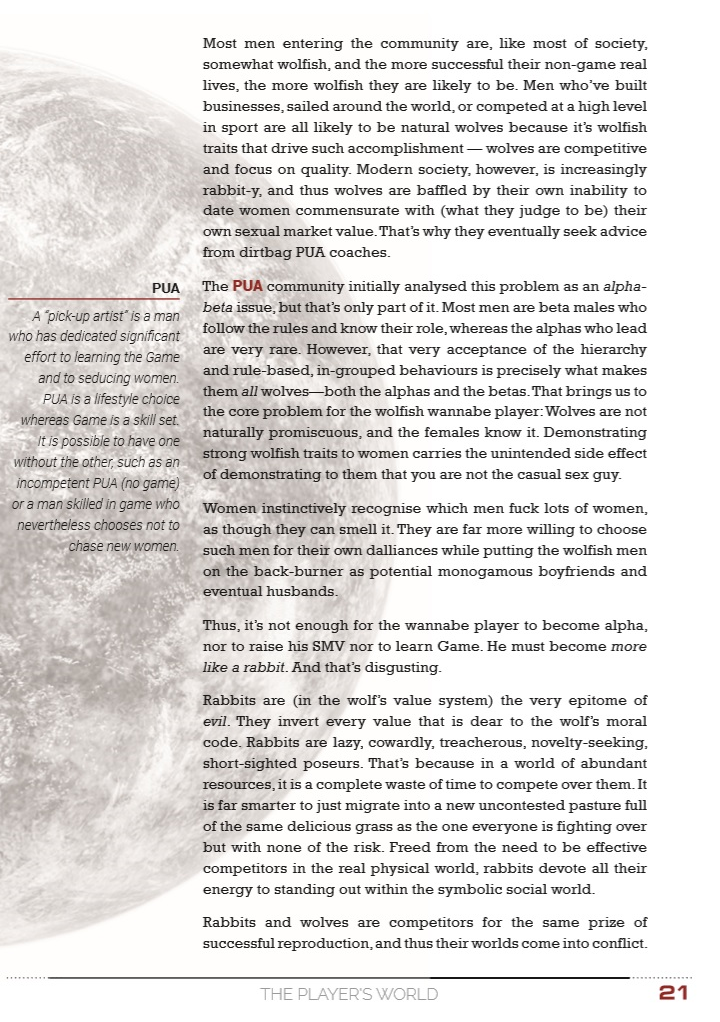 I have long thought Alpha/Beta was missing something. That something is societal context. In LA today, Audie Murphy, one of the most decorated soldiers in WWII, would enter a club and seem Beta to pickup artist Mystery. Audie might even walk out in disgust, and be classified as Omega.
But when Audie came back from WWII, the most decorated soldier in history, having subdued entire German military units by himself, everywhere he went everyone ceded the ground to him and he was the unquestioned Alpha. Likewise, drop pickup artist Mystery in a biker bar full of Hell's Angels, where the wrong move can get you an Ambassador's knife jammed into the back of your ribs, and he is not AMOGing anyone. He's getting out of there before he is killed by someone who wants his silly fur top-hat as a trophy.
I think that a lot of women today who go r, would be going K in that scarier environment, and those r-women would find K-men more attractive for short term relationships as well. Put a girl in that biker bar, where she was slightly in fear for her life, and I would bet Audie Murphy with his trail of dead bodies and chest full of medals would find a lot of girls who would do anything to get him to view them as his girl, even if only for the night, so they could enjoy his protection. And once some girls judge a guy high value, the competition is on.
I am also fascinated that Krauser has found that in pickup, acting like a rabbit will actually attract the short-term mating women while being a success, or being daring, or exhibiting any indicator of K-status may turn their attraction for sex off, and cause them to seek to exploit such a man as a provider of free resources, while they pursue sex with rabbit-men on the side.
And yet, I know this. There is Josh Camacho, who had women stabbing each other over him. If he had been a dedicated martial artist, or played football, or worked a job in computer programming on the side, instead of being so aloof and demeaning, those girls wouldn't have been as likely to fight over him and try to kill each other. And then there is Mystery, in his big poofy velvet top hat with a pink bow on it, mink coat, psychedelic shirt, red leather pants, and aviator goggles. He didn't dress like James Bond for a reason.
Who would think everything you aspire to would be repulsive to a girl, and she would actually prefer an unemployed, rude, dirt-poor Cuban version of Woody Allen, with his name tattooed across his back? But it is true.
So in our rabbity world, take Krauser's advice. If you want to attract rabbit women, you need to use the rabbit suite of behaviors and style to signal rabbitry to them. I would say act like a wolf, but that will just make the rabbit women rebuff you just like the K-women, and you would never be able to separate them. Notice Donald, a devoted and monogamous family man, projected the image of a promiscuous playboy when seeking a K-selected wife.
K-strategists cannot predict r-strategist behavior by imagining how a K would think, and projecting that on the rabbits. Which is why a K-strategist man needs game. He needs to expose himself to the r-strategist women so he can learn to spot them and avoid them as long term mates.
There are people in this world you need to exclude from your life. We all know there are assholes, and we don't like them, but this is deeper. My Narcissist Bob was toxic. You hear the word toxic, but you have no idea what it means in that context, unless you meet someone toxic. Toxic people are toxic to life, and they can make it surprisingly difficult to extricate them from your life, once they get embedded.
I am grateful for having known Bob, because I can now spot his kind quite effectively in very little time and exclude them from my life with no remorse. Had I not known him, had I not plumbed those depths, I would be incredibly vulnerable. I am still amazed people go through life not knowing how to spot those kinds of people instantly. Because they are out there, just looking for lives to ruin.
Likewise, marriage requires you have some grasp of how to avoid the r-strategist women. The more partners a woman has, the more likely she is to not form that deep bond with a husband that makes a relationship last. And the more likely she is to be a narcissist who will screw up your life for some time to come.
You need that loyal, long-term bond. You do not want to wake up married to an r-strategist harridan who decides one day to take your kids and half your net worth, and move in with the ex-con who was mowing the grass across the street. Never is that more important than today's r-selected world, where female r-strategists are everywhere, and the r-strategy is increasingly normalized.
And all of that ignores the ability of Game to keep women happy in a marriage, and prevent a divorce or separation.
That is why young K-strategists need Krauser's book, and they need to develop his techniques. Indeed, K-selected Western Civilization's survival may depend on these skills.
Tell others about r/K Theory, because without creating a new generation of Pedes, we are wasting our efforts