Q, Anons, I've been following these drops since day one, but this is the first I'm hearing of this "Behold a Pale Horse" book from 1991, by Bill Cooper. It actually describes clowns planning to use school shootings as a way to disarm the citizenry.

This looks legit to me, astonishing as the quotes are. What say you all?

Behold a Pale Horse — Milton William (Bill) Cooper, 1991
http:// a.co/0IZY9ra

"Bill Cooper, former United States Naval Intelligence Briefing Team member, reveals information that remains hidden from the public eye. This information has been kept in topsecret government files since the 1940s. His audiences hear the truth unfold as he writes about the assassination of John F. Kennedy, the war on drugs, the secret government, and UFOs. Bill is a lucid, rational, and powerful speaker whose intent is to inform and to empower his audience. Standing room only is normal. His presentation and information transcend partisan affiliations as he clearly addresses issues in a way that has a striking impact on listeners of all backgrounds and interests. He has spoken to many groups throughout the United States and has appeared regularly on many radio talk shows and on television. In 1988 Bill decided to "talk" due to events then taking place worldwide, events that he had seen plans for back in the early 1970s. Bill correctly predicted the lowering of the Iron Curtain, the fall of the Berlin Wall, and the invasion of Panama. All Bill's predictions were on record well before the events occurred. Bill is not a psychic. His information comes from top secret documents that he read while with the Intelligence Briefing Team and from over seventeen years of research."

Feb 16 2018 19:53:19
Q
>>402088
BIG!
Q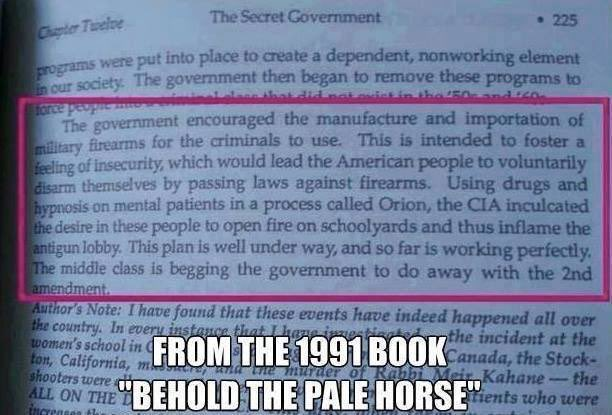 Think about how long we as humans went without kids being shot in school. The 50's had guns everywhere, and no school shootings. The chaos of the 60's, had no school shootings. The druggies of the seventies, and no shootings. It was almost unheard of, until suddenly in the late eighties, we had mental patients showing up and shooting children in schools. Then the adult mental patients stopped, and in the nineties we began to see children start shooting children in schools on a regular basis. And since then, no more adult shooters, only children.
I've thought about it a few times, and tried to figure out whether it was kids maturing earlier, media desensitization, a removal of Darwinian selection, or something else entirely. But none of that would explain why first we had adults doing it, and then suddenly the adults stopped, and children picked it up. It is almost like somebody was programming adult mental patients to do it, and then somebody decided it would have more impact if it was other children doing it, so they switched strategies. Plus how many children were put in therapy in the eighties. The kids didn't start shooting up schools until putting children in therapy became trendy, in the nineties.
Suppose killing children is a fundamentally unnatural state of affairs, which can only be created in a few circumstances through direct psychological intervention by professionals who know what they are doing. Then things would make a lot more sense. Gangstalking, Law Enforcement breaches of protocols in investigations, anomalies in the behaviors and videos around these events.
Given the CIA has already admitted they took over mental health clinics and proceeded to ruin lives of innocent people, and even produce deaths, for half-assed uncontrolled experiments that accomplished nothing, it is not impossible they decided to take out the Second Amendment using this method. Surely the technologies are there, as is the will. And if this book is correct, there may also be a paper trail.
If so, then we have a really wild ride ahead of us, and before it is all done, we may find out truly earth-shattering things about everything from JFK's assassination to 9/11.
Buckle up.
Tell others about r/K Theory, because wild rides can be like slippery slopes – they can be fun