Britain's 'worst ever' child grooming scandal exposed: Hundreds of young girls raped, beaten, sold for sex and some even KILLED

SPECIAL SUNDAY MIRROR INVESTIGATION: Authorities failed to act for over 40 years – despite repeated warnings to social workers – with up to 1,000 girls, some as young as 11, abused in Telford.

Girls as young as 11 have been lured from their families to be drugged, beaten and raped in an epidemic that, say victims, is still ongoing.

The Mirror's 18-month investigation reveals abuse on unprecedented levels.

We found:

•Social workers knew of abuse in the 1990s but police took a decade to launch a probe

•Council staff viewed abused and trafficked children as "prostitutes" instead of victims, according to previously unseen files

•Authorities failed to keep the details of abusers from Asian communities, for fear of "racism"

•Police failed to investigate one recent case five times until an MP intervened

•One victim said cops tried to stop her finding out why her abusers had not been prosecuted because they feared she would talk to us…

Our investigators have spoken to 12 victims, most of them unconnected.

They accused more than 70 abusers and claimed that violent rapes were still taking place just months ago…

"I fell pregnant twice and had two abortions. Hours after my second termination, I was taken by one of my abusers to be raped by more men.

"The worst moment came just after my 16th birthday when I was drugged and gang raped by five men…

Documents which will be passed to the Home Office reveals authorities knew of the horrors a decade before investigating – and shows how they tried to hamper our probe…

Cops also said there could be as many as 200 perpetrators – but just nine were caged and the case was then closed.

Today our investigation reveals the authorities were told of the abuse epidemic more than a decade before Chalice.

Our probe – backed by documents obtained under the Freedom of Information Act – found two predatory paedophiles began targeting girls from a local children's home in 1981.

One of the abusers earned thousands a night for years trafficking girls around the country for sex with hundreds of men, according to one victim.

In another case, a 14-year-old was groomed by an 18-year-old Asian man in 1985.

After she had his baby he passed her to friends to have sex with and allegedly rape her.

The girl, now 47, says she reported her abuse to the council and school but does not believe action was taken.

She says her doctor said she was mentally ill and should take medication…

A mum and four girls have died in tragedies linked to the abuse.

Lucy Lowe, 16, was killed in 2000 along with her mother and sister after her 26-year-old abuser Azhar Ali Mehmood set fire to their house…

But he was never arrested nor charged in connection with any child sex crimes…

Lucy's death was used as a warning to other girls, according to victims…

In 2002, 13-year-old Becky Watson died in a car accident that was reported at the time as a "prank".

Her mum Torron Watson said she repeatedly told police that Becky was being abused – and even gave them a list of suspects.
At least the Muslims contribute a rich culinary experience to the culture:
A schoolgirl was murdered by a fast food shop owner who joked that she had been "chopped up" and put into kebabs, a court was told yesterday.

The prosecution alleged at Preston Crown Court that Charlene Downes, 14, was killed by Iyad Albattikhi, 29, owner of a food shop in Blackpool, who had sex with her…

A missing persons inquiry began but police later launched a murder investigation after receiving information that Charlene had been "killed and chopped up", the court heard.

No trace of Charlene's body has ever been found…

"Albattikhi laughed and said she was very small – the plainest possible indication that he was lying to the police when he said he did not know her. He and others present then laughingly said that Charlene had gone into the kebabs."

In 2004, Albattikhi had a dispute with his brother, Tariq, who told a witness, David Cassidy, that he knew what had happened to Charlene – "she had been killed and chopped up and there had been a lot of blood", the court heard.
Since these were child traffickers, they were probably trafficking the children to the elites as well. So when trouble began and parents complained, somebody from some elite Federal agency walked into Police headquarters, pulled out an ID, and explained just how the police were going to cover it up.
That ability to shove aside local law enforcement whenever it is convenient is probably useful for the good federal agent who has some imminent attack they need to stop, or some important case they need to make a priority at the local level to save lives. But once you create that ability, you have just fully empowered the pedophile elites and their Muslim child traffickers.
Not that it probably mattered. Here is one of the cops responsible for the case: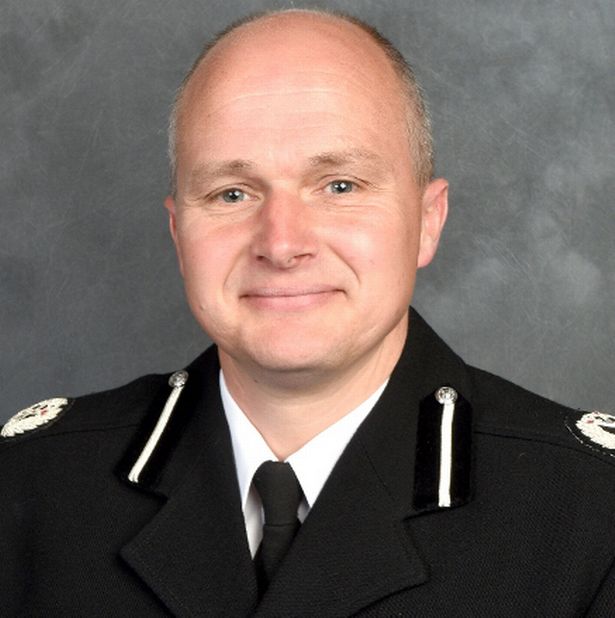 Even if he didn't look like a total pussy, notice the nasolabial line, which in my experience has often correlated with sexual deviance and a history of sexual abuse.
More and more I am realizing why the leftists in DC and the Justice Department worked so hard to make sure Justice and the Social Justice left had some say in the police hiring process. Local PD can be the biggest threat it faces, or its greatest power over the people.
The only answer is decentralization of everything, from Police hiring, to media ownership. Centralization is the Deep State's biggest strength. Localize everything, and give the power to the local community, and Deep State will be neutered entirely.
You can tell others about r/K Theory, because pedophiles need to die